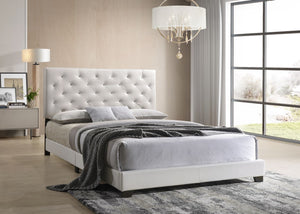 UPHOLSTERY BED INCLUDING 4 SLATS
COMPLETE BED-IN-A-BOX
MATTRESS SOLD SEPARATELY !
Crafted from high-quality white leather, this bed is designed to exude opulence and luxury. The rhinestone-studded headboard is a standout feature, creating a bold and stunning focal point in any bedroom. The carefully crafted rhinestones provide a shimmering effect that catches the light, adding a touch of sparkle and glamour to the overall design.
The sturdy frame of the bed provides excellent support and stability, ensuring a comfortable and restful sleep. The sleek and modern design of the bed gives it a contemporary feel, making it the perfect addition to any modern bedroom.
The white leather upholstery is not only stylish but also practical and durable, ensuring that the bed will remain looking beautiful for years to come. The rhinestone detailing is meticulously crafted, ensuring that it remains securely attached and adds a touch of elegance for years to come.
Transform your bedroom with this stunning white leather bed, complete with a rhinestone-studded headboard. It's sure to make a glamorous and sophisticated statement in your space and provide a comfortable and restful night's sleep.